After a 16 year, spread across 2 continents career in corporate travel, I switched gears and ended up in Web Design. Quite by accident, too.
Do you remember the ghastly javascripts of the 90's? Exploding galaxies, etc? Well, one of them must have been a little less tasteless than most, and got me thinking "How do they do that?"
For no reason, other than to satisfy my curiosity, I went on a mission to find out. I quite vividly remember my first print out of "HTML 101". Many trees were harmed in the process. Anyways, to make a long story short, I was hooked. I created a personal website under the name of "Sunshine" and started dabbling and experimenting away.
To my surprise, someone saw and liked that little website and asked me to build one for her home daycare. That was my first job.
After registering a company in 2000, I continued to hone my skills over the next 3 years, collecting several clients, while still working as a corporate travel consultant.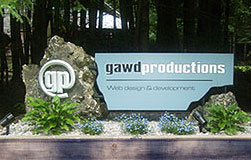 In 2003 I left the city and the day job and focused on building the business in earnest. In addition to web design, I also started hosting client sites and got much deeper into programming and content management.
16 years later, GAWD Productions is still viable and I am still learning and dabbling.
Incidentally, if you should stumble in here one day and everything looks funky - fear not; chances are, I'm experimenting